Tuples
About
Tuples is currently active on twitter and AO3.

Philosophy
ship whatever you wantyour kink is not my kink but your kink is okay (YKINMYKBYKIOK)vers and switch rights!
Moodboards and Collages
My moodboards/photo collages, are open for people to use as inspiration. QRT them on twitter, or link to them in AO3.
Writes for: MDZS/CQL Ships

XiChengXuanXiChengSongXueXiaoXuanLiXuanChengMingXiChengChengXuanLiLingYiChengNingChengXianNieYaoSangXianXiChengNingChengRenMingQingChengZhui
Writes for: Guardian/Zhen Hun

ChuGuo
Writes for: Sk8 the Infinity

MatchaBlossom (Cherry/Joe)TadaAi (Adam/Snake)RenGa (Reki/Langa)
Ship not listed?
Talk to me! I might be persuaded to write them, as long as they're not my NOTPs. Discussions via DM preferred.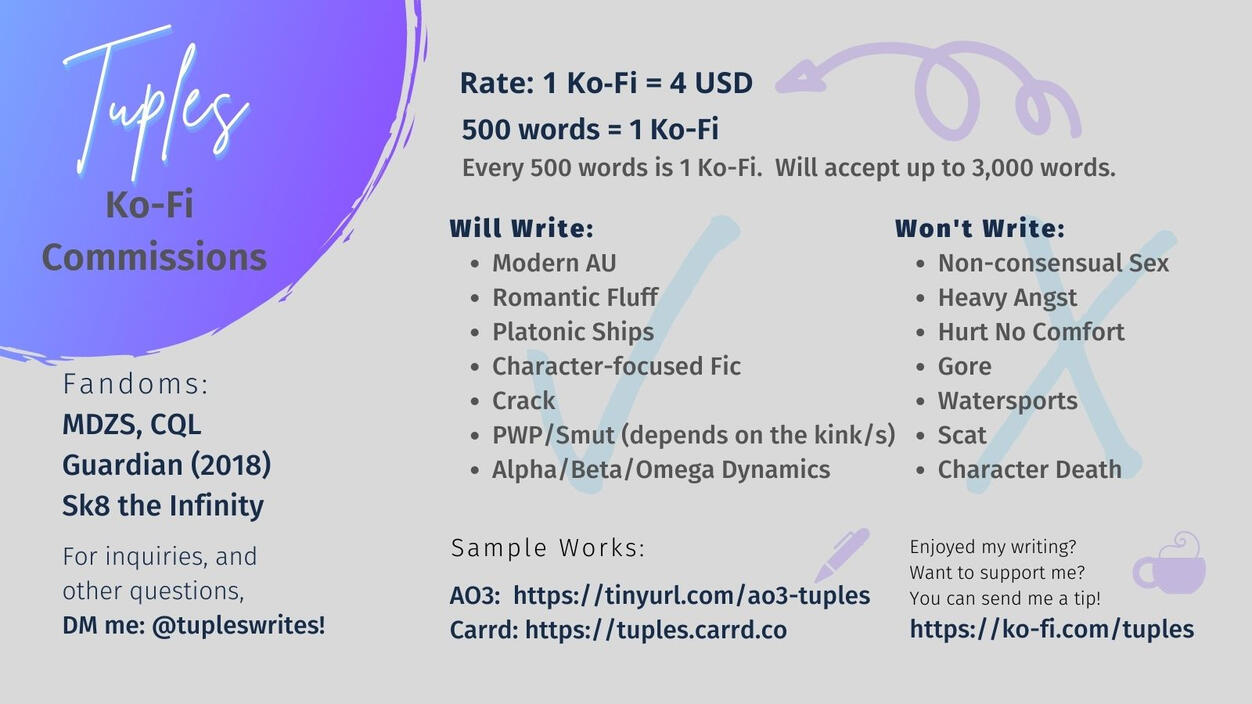 Ko-Fi Rate
1 ko-fi = 4 USD1 ko-fi = 500 words
For every 1 ko-fi, you get 500 words worth of fic. If you'd like a 2,000 word fic, that will be 4 ko-fi (16 USD).
Currently comfortable with requests which are fics worth up to 3,000 words.

Fandoms
MDZS, CQLGuardian, Zhen Hun
Will Write
Modern AURomantic FluffPlatonic ShipsCharacter-focused FicCrackPWP/Smut (but please DM first because even though I tend to be open to a lot of kinks, I'd like to talk about them with you first)Alpha/Beta/Omega Dynamics (Omegaverse)
Won't Write
Non-consensual SexHeavy AngstHurt No ComfortGoreWatersportsScatCharacter DeathMob x Character type of fic
Writing Samples
You can click on the threads on the different pages/sections of this card. :)You can also read my works on my AO3 account.Commissioned fics will also be cross-posted to tuples' dreamwidth account.